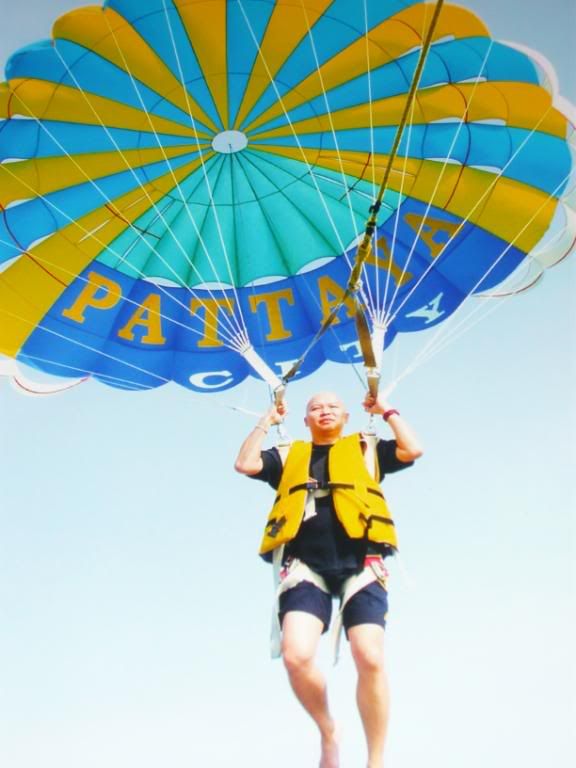 This morning i woke up and got ready to go to
Pattaya's Coral Island
. Its about 1 hour journey if you were to take the junk boat but half an hour by speed boat.
Its a lovely island with white sandy beaches but abit too much of tourist. It seems like all tourist has flooded down to coral island to enjoy the sun, sand and sea!
There are also a whole row of mini shops selling all sorts of souvenirs, clothes, t-shirts and of course swim wear for both the men and for the ladies as well. I bought a swimming trunk for myself and it costs
100 baht
which is around $4 sin dollars. :D I also bought some souvenirs back for my sister, my godsister and my galfriend.
I want to highlight my experience while taking the parachuting course which lasted a few minutes but really enjoyable and fun. This is my first time i tried this sport and i will try it again if i see one....:D You seem to be having wings soaring thru' the open air in the sky and freedom is yours to choose. But of course, you are driven or pulled by the speed boat down below you as it drags you and that is why, you are able to lift into the air. Its
300 baht per person
and everyone that was in my group tried this fun and exciting sport.
This is actually held on a floating platform and the instructors and helpers are on the platform to help you buckle up according to the safety standards and hence its really quite safe to soar in the air....LOL
XOXO..
Subscribe in a reader